Latest News about Sonya And Sacha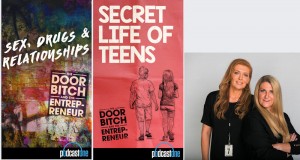 Parents podcast – Secret Life of Teens
– CLICK TO LISTEN
Sonya Karras – The Door Bitch and Sacha Kaluri – The Entrepreneur have spoken with more than one million teenagers over the past 18 years. Talking to them on the real issues they deal with everyday. Bullying, sex, drugs, cyber safety and career choices. In this series we share our tip, strategies and information to help you have meaningful conversations with your teenager.
Teenagers Podcast – Sex, Drugs and Relationships
– CLICK TO LISTEN
Sex, you're gonna have it. Do you know what to do? Drugs, you're gonna be offered them. So you should know about them. Cyber threats, how do you protect yourself? Bullying, how can you deal with it? Sonya Karras – The Door Bitch and Sacha Kaluri – The Entrepreneur have been talking to young people like you for years. Talking about the stuff that matters and helping you in your everyday life. This is the stuff you need to know about!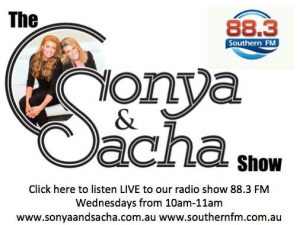 Sonya and Sacha now have a tv show!
Click here to see the shows online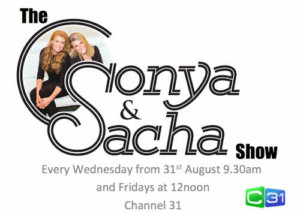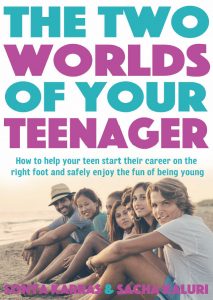 New Book!
Click here to purchase Sonya and Sacha's NEW BOOK
"The Two Worlds of your Teenager"
About Our Podcasts
Sonya Karras (www.wholenewworld.com.au ) and Sacha Kaluri (www.sachakaluri.com ) are two of Australia's leading professional speakers on youth issues. For more than 15 years, these dynamic women have offered their presentations to millions of young teenagers, parents, corporate organisations, Universities, Government and charities throughout Australia. They are award winning speakers, youth ambassadors, Mums and have created Australia's largest youth event of its kind – the Australian Teenage Expo.
They are literally in front of teenagers every day delivering their life changing messages with a relatability rarely seen in this market. Sonya and Sacha have access to the inside world of a teenager, how they speak, what they think is important, what they care about and how they feel about themselves and the world.
Through these film clips, podcasts and articles – Sonya and Sacha will share their knowledge and provide you with strategies to help navigate this awesome, yet sometimes scary time of life.
To be contact when the full site launches in 2016 – please click here
What You Get
Sonya and Sacha will bring you a variety of articles, filmed clips, podcasts and links to information about every topic related to teenagers.
You will be able to click on a subject and have a world of information at your fingertips. Drugs, alcohol, partying, bullying, cyber bullying, mental health, research, body image, leadership, sexual health, careers and so much more.
At the moment – the content you see is free.
In 2016 we will launch the Sonya and Sacha website subscription where you can become a member and have access to everything you need to know about your teen.
Double click any video below to watch in full screen..